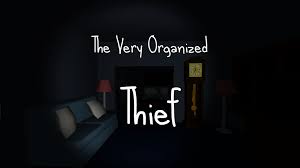 Welcome to The Very Organized Thief wiki! Come here for all the basics of the game as well as tips, tricks, and other information!
About the Game
Edit
The Very Organized Thief is a casual first person stealth game which lets you play as a thief with a very peculiar way of looting things.
Quickly search for items found on your checklist of things to "borrow" and escape. But beware! These items could be anywhere and residents are likely not to be pleased with you taking their stuff!
Unlike many stealth games which are about action and combat, The Very Organized Thief is about the thrill of searching for what you need, using the skills you have to overcome any obstacles, and hopefully getting out of there before you're subdued!
The game was developed in 2013 by Redefinition Games. It was originally created as part of a small 7 day challenge. It has since been updated several times with more content and new features for people to enjoy.
↑ The Very Organized Thief description: http://www.redefinitiongames.com/games/the-very-organized-thief/