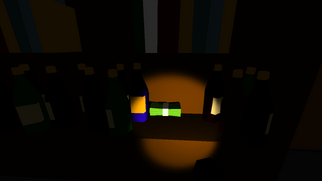 Money Stacks are items in The Very Organized Thief.
Locations
Edit
Money stacks are found in the following locations:
The wardrobe in the master bedroom
Wine Storage
Shelf Near Power Box
Bathroom Cabinet
Box In Garage
The bottom drawer of the desk in the first bedroom
Cabinet over the boxes in the Garage
Cupboard above the counter in the Kitchen
Beside table in the master bedroom
Living room (bookshelf)
If you successfully steal all the money stacks in one game and escaped the house. You will achieve the "Greedy Thief" rank.
It is unknown why the Money Stacks aren't all in The Safe.
It is worth exactly $100.