Appearance
Edit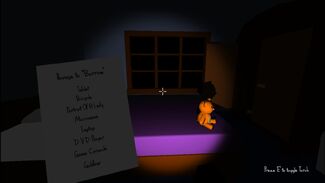 The Checklist is a built-in object, like a HUD, or GUI. The checklist is a sheet of paper with words at the top, reading "Things to "Borrow". Below that there are names of items that the Player needs to collect in order to leave before the Owner gets home. When the Player has collected an item, it is crossed off with a line.
Function/Use
Edit
It's use is to tell the Player what he/she needs to collect. The items' names that appear on the list cannot repeat, and it is random every time.
The items "Painting" and "Portrait of a woman" are different, although they're always both in the Dining Room.
The Goldbar is usually on the checklist; when it is, it is always located on the bottom.
The checklist usually contains at least one electronic device, such as a TV, DVD Player, Game Console, Tablet, etc.

The checklist also usually contains an object that can be found in the garage.